Last week I wrote a blogpost on rewriting code and improving quality. And now we have some great news that will support my claims. To verify our project and convince management we are doing it the right way, we've send a copy of our code to TÜViT.
TÜViT
Most people from Europe will know TÜV. They test and certify cars, elevators and even nuclear power plants. They also verify IT security, quality, infrastructure, products, processes and their requirements. TÜViT is accredited by organisations and official bodies for the areas of IT security and IT quality.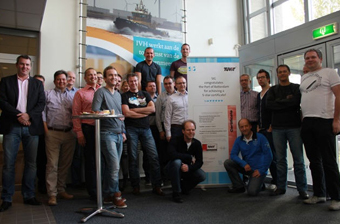 HaMIS
Their verdict couldn't have been better, last week we've received a banner with 5 out of 5 stars! Just 5% of the projects that are submitted to get tested get 5 stars. More information can be found in the official press release and in the Automatiserings Gids (Dutch).
Agile architecture and refactoring
For some reason getting these 5 stars makes me very proud. Normally I don't care much about certification, they usually focus on the wrong issues. We know we are doing the right stuff, it feels good, and we're making good progress. And this is just a perfect verification from an external source, this will also assure management we are on the right track.